Make your Parasail reservations as early as possible for one of our two locations: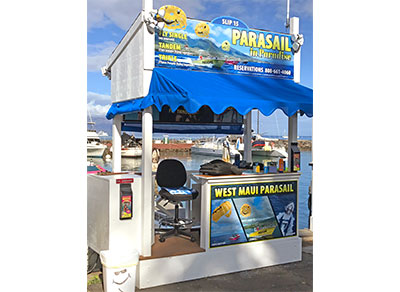 Lahaina Harbor Location – West Maui Parasail is located at slip #15
• Easy loading onto our shuttle boat off the dock
• Convenient parking locations
• Close to restaurants & shopping
Scenic Lahaina Harbor is full of activities. Vessels of all kinds depart daily for Lanai, snorkeling off the coast, dinner cruises, and whale watching (in season.) Our Harbor location is perfect for families with smaller children or if you are physically challenged it is much easier to get on and off the shuttle boat from this location.
After your parasail adventure you can explore Lahaina and visit beaches, shops, restaurants or art galleries – Lahaina has some of the best attractions Maui has to offer.
Lahaina's Front Street has been ranked one of the "Top Ten Greatest Streets". And you can't miss the massive Banyan tree located in the town square, which is over 150 years old.
For help with parking, CLICK HERE for a map with a list of lots in Lahaina.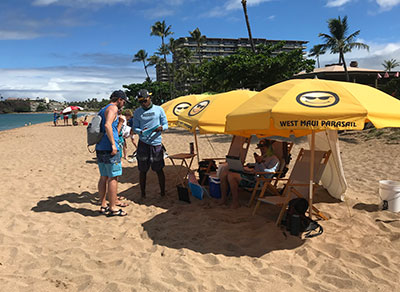 Ka'anapali Beach Location –
• Load onto shuttle boat off the beach
• Convenient parking at Whaler's Village Mall
• Lots of restaurants & shopping locations
• One of Maui's most beautiful beaches
Our Ka'anapali Beach locations is right on the beach in front of Whaler's Village Mall and the Westin property line. Just look for the three yellow umbrellas! After you check in you'll get on a Zodiac boat right off the beach to shuttle you to the parasail boat where you'll start your adventure.
With three miles of white sand and crystal clear water, it's no wonder why Ka'anapali Beach has been named one of America's Best Beaches. The view from up in the air is phenomenal.
Parking at Whalers Village Mall is convenient and if you eat or buy anything at the mall they will validate your parking ticket. It's the perfect place to shop or eat after your parasail adventure.
CALL 808-661-4060 for same day reservations.  We have some availability that is not online.  Call 808-661-4060.
NOTE: We are closed December 15 to May 15 each year due to the migration of the humpback whales